One of the greatest expenses real estate agents can face in their real estate career, is the ongoing costs of utilizing the essential technologies for effectively running a successful real estate business.   These real estate technology tools can range from online lead generation to database management to real estate transaction management.   A recent poll revealed that the average real estate associate pays approximately $315+ a month for technology tools. On the other hand, Keller Williams real estate associates pay only $15 a month for KW eEdge and $10 a month for KW eAgentC.  Get an inside look below at the breadth of KW | Technology available to KW associates versus industry standards.
What is KW eEdge?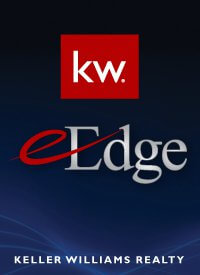 The Real Estate Industry's First & Only Complete Lead To Close Realtor Business Solution
KW eEdge is the real estate industry's first and only complete lead-to-close agent business solution — including a full realtor lead management system, contact management system, customizable marketing library and a paperless real estate transaction workflow. Exclusively for KW associates, Keller Williams eEdge saves our real estate sales associates time, money, and effort by reducing redundancies in their work day and allowing our real estate agents to do what they do best — list and sell homes and shine with their clients.